What Happens if Your Dentures Begin to Dry Out?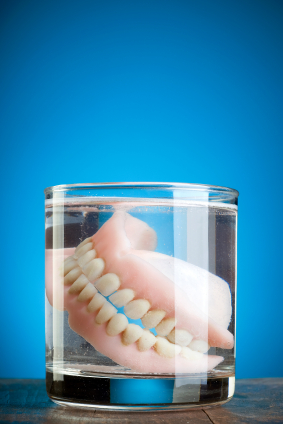 Dentures do not last forever. Even with the best of care, they can still run into problems. Some of the problems people run into are discoloration, cracking and breaking. Another problem is when the dentures dry out. If you have dentures, you need to understand how dentures dry out and what it means if this happens.


Reasons Dentures Dry Out
It seems like dentures are a hard material, but they still need water to stay moist. When the dentures are in the mouth, they have a natural source of water from the saliva the mouth generates.

When you take the dentures out before going to sleep, they can begin to dry out. That is why you should soak them in water and a cleaning solution whenever they are not in the mouth.


What Happens When They Dry Out
It takes time for the dentures to lose the moisture. The longer they are left out of the mouth and out of water, the more they will dry out. As the dentures lose their moisture, they become brittle. Brittle dentures are prone to crack and break. They also begin to warp and change shape. When the dentures change shape, they may not fit properly. Dentures that don't fit can irritate and damage the gums. They can cause a person to change their bite. The longer a person wears dentures that no longer fit, the more problems they face.

The good news is there are things you can do about dentures that are drying out. If they have been out of the mouth and not in water for a short period of time, it is possible putting them back in the mouth is sufficient. If they were left out overnight, soaking them for an hour should help. If they have been out longer, it is best to soak them in water for at least 24 hours. This can rehydrate the dentures, but it is important to inspect them for any changes.

If you want to know more about this, contact the professionals at our offices.