Why You Need to Remove Dentures Nightly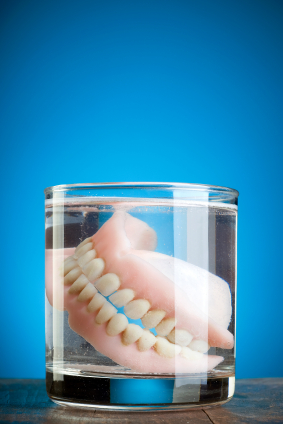 The most common question we hear in our office regarding dentures is "Can I sleep with my dentures in?" The short answer is "No, remove them nightly." And here we'll share with you a few of the reasons why it's important for you to remove your dentures nightly.


Life With Dentures
When you first receive your dentures, we may ask you to sleep in them for the first night. Generally, this is because we want to see you again the next day to ensure that they are fitting correctly and that your mouth is beginning to adjust to them. After that, we instruct that you remove them nightly to clean them and soak them overnight. Wearing dentures 24 hours a day can cause many different problems with your overall oral health.

One of these problems is a buildup of plaque, bacteria and even tartar in your mouth and on your dentures. As you eat, tiny food particles can get under your dentures and stay stuck in between your gums and the prosthetic teeth. Removing your dentures nightly to brush them and care for your mouth helps reduce your risk of infection, dental halitosis and bacteria build up in your mouth.

Another reason why you should not continually wear your dentures is that it can accelerate the rate that your jaw bone is reabsorbed into your body. Gum inflammation, thrush (oral yeast infection) and elevated white blood cell levels are other complications that can arise from wearing your dentures around the clock.

Additionally, when you sleep, your salivary flow is naturally diminished. This can cause your dentures to become dry, warped and ill-fitting which can result in oral sores and bone loss.

Remember, remove your dentures nightly, brush them carefully and set them aside to soak overnight. Caring for them will ensure that they will last a very long time and help you keep a healthy mouth.