Dental Procedures at Bay Lakes Center for Complex Dentistry
Whether you need to get a tooth filled, have crooked teeth or need a complete smile makeover, we can offer a treatment plan that's right for you.


Learn more about what we can do for you:
| | |
| --- | --- |
| • | Dental Implants |
| • | Denture Solutions |
| • | Sedation Dentistry |
| • | Cosmetic Dentistry |
| • | Restorative Dentistry |
| • | All-on-4® Treatment Concept |

At Bay Lakes Center for Complex Dentistry, we perform a wide variety of services to help you get the smile you deserve. By leveraging today's advanced techniques and technology, your Escanaba dentist Dr. Lasnoski can restore your beautiful smile to help you maintain your youthful appearance.
---
Losing a tooth is no longer cause for embarrassment or anxiety. With dental implants you can rediscover the joy of smiling, chewing, speaking and laughing without any fear of loose dentures or unsightly holes where teeth should be.

Dental implants are the most permanent solution for missing or damaged teeth. At Bay Lakes Center for Complex Dentistry, SC we pride ourselves on creating implants that are so natural-looking and comfortable that once you have them, you may forget you ever lost a tooth.


A dental implant acts as a substitute for the root of a missing tooth and an anchor for an artificial tooth or set of teeth. Using dental implants we can also improve the stability of your dentures and give you the option of securing them in place permanently. Because implants are inserted below your gum and anchored into your jawbone, they are as secure as your permanent teeth, without impacting healthy, adjacent ones. With proper care, they can last a lifetime.



Click here to learn more about why dental implants are a great solution.




Why Choose Bay Lakes Center, SC for Complex Dentistry for Your Dental Implant Treatment?
Dr. Lasnoski and Dr. Hallas have years of advanced training and clinical experience in implant dentistry, and perform more dental implant procedures in a month than many dentists perform in a year. They utilize the most advanced technology and are specially trained to diagnose your complete oral health to make sure you have no underlying issues that could affect the outcome of your treatment.


If you are a good candidate, Dr. Lasnoski or Dr. Hallas will create a treatment plan that ensures:

| | |
| --- | --- |
| • | The right type of implant for your mouth |
| • | The correct placement and angle for each implant |
| • | The best materials for replacement teeth based on your needs and lifestyle |

Our highly skilled and artistic lab technicians will then work closely with us to fabricate artificial teeth to match your existing ones perfectly in shade and size. Should you wish to whiten your existing teeth before the new ones are made, it can be done as part of your treatment plan.


On-site Dental Implant Surgery
Dr. Lasnoski and Dr. Hallas are specially trained to perform implant surgery as part of their overall treatment plan. It's one more way we can make the dental restoration process more convenient and comfortable for you. You can have all your procedures done in one office and we can ensure more predictable results, locating your implants exactly where they need to be for functionality and aesthetics. Using advanced implant planning software and CT data, we are able to perform minimally invasive surgery in a shorter time, making the experience and recovery easier on you too.

If the very idea of dental surgery makes your palms sweat, we've got that covered. We offer gentle and effective oral conscious sedation that eliminates any pain and lets you relax during the procedure.
---
When you've lost your natural teeth, dentures give you back the ability to chew, digest and speak more easily. They also support sagging facial muscles and tissue, rejuvenating your whole face as well as your mouth.

Wearing dentures doesn't mean you have to sacrifice a beautiful and natural looking smile.


We Like to Hear Our Patients Say "Wow"
At Bay Lakes Center for Complex Dentistry, SC, we've been delighting our patients with exceptional dentures for over 30 years. Dr. Lasnoski and Dr. Hallas will work together with our in-house laboratory technicians to create beautiful, custom-designed dentures that fit the shape of your face and mouth, and provide a perfect match to natural teeth.


Types of Dentures
There are two main types of dentures:

| | |
| --- | --- |
| • | Complete dentures are used when you have lost all teeth on your upper and/or lower arches. The base is made of plastic resin that replicates the color of gum tissue and holds the teeth. The teeth can be made of porcelain or durable plastic. |
| • | Partial dentures replace several teeth when there are no adjoining or posterior teeth to use as anchors. They are typically made of a metal framework, which holds the denture in place, and a plastic, gum-colored base with teeth. |
How Long Does it Take to Make Dentures?
Conventional dentures are made after all teeth have been extracted and can typically be placed in the mouth 8 to 12 weeks later, after the gums have healed. They require several appointments to design and fit.

Immediate dentures are created before teeth are extracted and can be worn immediately, so you are never without teeth. However, due to gum and bone shrinkage, immediate dentures need more adjustment and possibly replacement, making them a temporary solution for many people.


If you already have conventional, removable dentures and experience difficulty wearing them because of poor stability and decreased chewing function, we may recommend dental implants. If you add just two implants to secure your dentures, studies have shown that you can double your chewing power and reduce your chewing time by half. Using four or more implants we can eliminate the need for dentures altogether.
---
Do you suffer from dental anxiety, resulting from traumatic past dental experience, needle phobia, high gag reflex, or have very sensitive teeth?

Bay Lakes Center for Complex Dentistry offers oral conscious sedation dentistry at both our Green Bay and Escanaba dental facilities. With conscious oral sedation you'll find your treatment is performed more comfortably than you might ever have thought possible. You'll be drowsy, and unaware of the time passing by.

We will discuss any anxiety you have about dental work during your initial visit. We find that Dr. Lasnoski and Dr. Hallas make our patients so comfortable that by the time we're ready to discuss treatment options, their nervousness is gone. But if you think oral conscious sedation will help you, we'll schedule your sedation appointments at that time. Our specially trained team will monitor you continually throughout these appointments.


Beyond taking all your anxieties away, oral conscious sedation allows us to accomplish extensive amounts of dentistry at one time, and you'll have little or no memory of the experience. This will result in fewer dental appointments necessary to complete any dental work.

Statistics show 50% of the population put dental care at the bottom of their healthcare list because of fear or pain. Oral conscious sedation provides a simple and safe way to maintain your dental health. For anxious patients, it's like a miracle.
---
When you commit to a cosmetic dental makeover, you deserve a dazzling smile you'll be proud to show off for years to come.

We have been putting new and long-lasting smiles on our patients' faces for over 30 years. As the architects for your new smile, Dr. Lasnoski and Dr. Hallas consider your cosmetic issues only after doing a thorough examination of your oral health (your teeth's foundation) to make sure there are no hidden problems that could affect your new teeth over time.

Depending on your unique situation, they can change the size, shape, alignment and color of your teeth; close gaps; correct your bite; replace missing teeth and/or failed fillings and solve the most complex dental issues—all with an eye on making your smile beautiful.


Cosmetic Solutions That Are Just Right for You
If you have complex issues that require partial dentures or bridges, all replacement work will be done to match the rest of your healthy teeth. You can decide whether you want to enhance your own teeth with whitening or veneers before your replacement teeth are fabricated.

We treat damaged or discolored teeth with a range of options, depending on your situation and oral health:

•

Teeth Whitening:

Advances in cosmetic dentistry have made teeth whitening an easy way for patients to brighten their smiles. We offer in-office treatments, such as bleaching or laser whitening, as well as bleaching products you can use on your own, at home. We can discuss your options during your first consultation.

•

Crowns (Also Known as Caps):

A crown covers or "caps" a fractured or diseased tooth to restore its normal function and appearance. Crowns can be made of porcelain, porcelain fused to metal or all metal.

•

Veneers:

Porcelain veneers are thin shells of porcelain used to modify the shape and color of your teeth. They are extremely durable and resistant to staining, and match the texture of your existing teeth. However, if you are prone to grinding your teeth, we may recommend a crown for extra durability. Veneers are bonded to your existing teeth after the permanent tooth has been etched. Dr. Lasnoski and Dr. Hallas are able to minimize the amount of etching they have to do on healthy teeth because of their vast experience with veneers.

•

Inlays and Onlays:

These pieces of porcelain or composite resin are bonded to (laid on) a damaged or misshapen area of tooth. They are like a filling but used to rebuild the shape of the tooth.
Miracles Happen in Our In-house Dental Lab
A dental lab is a vital component of your cosmetic dental care team. The laboratory technician is critical in creating beautiful, natural-looking artificial teeth, crowns and veneers. All restorative dentistry hinges on the skill and knowledge of this key team player.

Our highly trained and talented dental technicians have been working with us for years in our in-house dental lab. You will have the chance to meet them when you visit Bay Lakes Center for Complex Dentistry, SC. They will meet with you again after your treatment plan has begun, to view your natural teeth so they know exactly what they have to match. When corrections or adjustments are needed, our techs can often do them while you wait.
---
Whether you've coped with dental problems for years, have recently lost a tooth or are experiencing chronic jaw pain, Bay Lakes Center for Complex Dentistry, SC is highly qualified to restore your dental health and give you back your smile.


Call (906) 212-4725 or
schedule an appointment

.
We provide a range of state-of-the art treatment options to meet your needs, lifestyle and budget, with an emphasis on difficult or complex problems.


Full Mouth Reconstruction
If you have lost all your teeth in your upper or lower jaw, your treatment options for full mouth reconstruction include dental implants or traditional dentures.


Missing Teeth
While implants are the state-of-the-art option for missing teeth, if you prefer a non-surgical and relatively quick solution and have at least one healthy tooth on either side of the gap formed by the missing teeth, a bridge provides a good fixed alternative.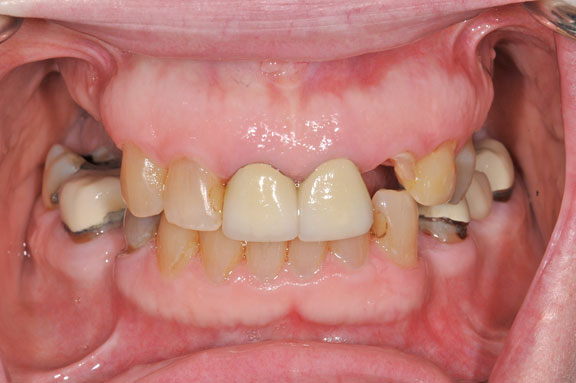 With a bridge, the artificial tooth is held in place above the gum line by attaching it to crowns cemented onto the permanent teeth on either side of the gap. Bridges can be made with several artificial teeth as well. When the adjacent teeth are not looking their best, a bridge will enhance their appearance as well.


Damaged, Fractured, Misshapen or Discolored Teeth
Multiple crowns can be used to cap teeth with large fillings, that have had a root canal or are in need of repair. In some cases, veneers may be an effective solution. For more information, see

Cosmetic Dentistry.




Treatment for Congenital or Developmental Mouth Defects
Many patients are missing certain teeth because they never developed or may be misshapen. Others have teeth with poorly developed tooth structure throughout their mouths. Dr. Lasnoski or Dr. Hallas will determine the best way to replace and/or restore these teeth to proper form and function, creating restorations that are indistinguishable from the natural teeth. See our

Dental Implants,

Denture Solutions

or

Cosmetic Dentistry

pages for more information.


Cleft Lip or Cleft Palate Defects
Many cleft lip and palate patients exhibit missing teeth in the area of the clef. If this is your issue, we can help you. Additionally, while most cleft palates are now successfully closed surgically, if you require an obturator to close the palatal defect, we can fabricate an obturator that will improve your speech and swallowing.


Temporomandibular Joint (TMJ) Disorder
If you have painful symptoms including headaches, pain in the joint or muscles you use to chew, and limited movement of your lower jaw, you may have TMJ Disorder. The temporomandibular joint connects the mandible (lower jaw bone) to your skull. After evaluating your situation, Dr. Lasnoski or Dr. Hallas may recommend a night guard to treat the pain and protect your teeth.
---
All-on-4® Treatment Concept
If dental implants have been recommended for you, but you would rather avoid an extended treatment time, Teeth In A Day are possible with the All-on-4® Treatment Concept.


The unique system of the All-on-4® Treatment Concept provides structure and stabilization with the placement of the dental implants, making it possible for you to go home that same day with a new set of teeth. The entire process, including any extractions that may be needed, can be completed in a single day. You'll go home with a fully functional set of teeth that look and feel natural, with minimal recovery time.


Restore Your Smile, Without the Wait
Bay Lakes Center for Complex Dentistry will begin with a 3D scan, allowing your provider to view a three-dimensional virtual model of your mouth. This allows your dentist to customize your implant procedure by identifying the exact positions where the implants should be placed in your mouth, while also understanding how the factors of bone quality, implant spacing, and other anatomical structures in your jaw will affect the final set of replacement teeth and their associated implants.


Are Teeth In A Day Right For Me?
Patients who have the right amount of bone available in their jaw, and who do not need any other adjunctive dental procedures for the success of their dental implant may qualify for Teeth In A Day. After a 3D scan of your head and neck, Bay Lakes Center for Complex Dentistry will consult with you to determine whether this course of treatment is right for you.
---