Why Dental Implants?

Escanaba, MI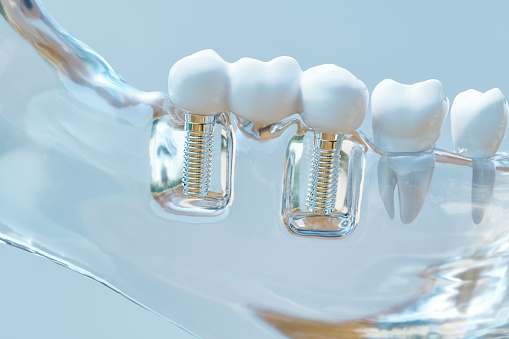 At Bay Lakes Center for Complex Dentistry, our dentists have the experience and skills to give you a great smile. From tooth realignment to replacement teeth, we have multiple types of dental implants that can fit any need you may have. One question that could pop up is what are dental implants?

Dental implants are metal posts or frames that we position carefully under your gums so that we can place artificial teeth atop them.
Why Not Use Bridges Or Dentures?
| | |
| --- | --- |
| • | Because they are difficult to floss, bridges often fail after 5-10 years |
| • | More bridges have to be attached to teeth next to the opening left by your missing tooth. |
| • | Teeth nearby may have to be ground down to keep your new replacement tooth in place. |
| • | Traditional bridges and dentures can be quite uncomfortable with patients who have a gag reflex or sore spots. |
How Are Dental Implants Better?
The purpose of dental implants is to give your replacement teeth the stability they need so that they do not shift or slip in your mouth.

We safely and securely fuse the implants to your jawbone so that your new teeth have support that feels much more natural than traditional bridges or dentures.

Though implants can often be more expensive than other kinds of tooth replacement, their ability to anchor your teeth makes it feel as close as possible to a natural tooth.

You can once again chew food with ease and comfort, which many of our patients prefer.
Choosing Your Dental Implant
Before choosing your dental implant, one must contemplate whether oral surgery suits your needs. There are two main types of dental implants that we consider safe to use.

Endosteal implants surgically implant right into your jawbone. To attach your artificial tooth or teeth to the implant, endosteal requires a second surgery to connect a post to the implant.

Alternatively, subperiosteal implants make use of a metal frame that we fix on your jawbone beneath the gum tissue. Once your gums recover from the initial treatment, the frame fits snugly in, and your replacement teeth are placed upon posts that safely emerge from it.
How To Maintain Your Dental Implants
Maintaining good oral health is important throughout your life, and especially so when it comes to keeping your dental implants working properly.

If possible, we recommend steering clear of hard foods like candy and bad habits like chewing on ice. These can potentially injure your natural teeth in addition to possibly breaking the crown of your implant.

Interdental brushes can let you reach and clean difficult areas around the implant. We also recommend that you continue to come in for your twice-annually dental cleaning so that we can help you make sure that the implant remains in peak condition.

If you want your artificial teeth to feel and look as close to normal teeth as possible, we recommend dental implants if you have lost a tooth to injury or decay.
Dental implants are aesthetically pleasing, great for your self-esteem, and can make it so much easier to eat and speak. If you are interested and would like to learn more about, call us today at (906) 212-4725.